If you're thinking about visiting Chicago, you're not alone. Approximately 58 million tourists traveled to the Windy City in 2018. It is home to world-renowned architecture, miles of stunning parkland, and lots of sandy beaches. Planning when to visit is this vibrant city is crucial. Hundreds of events and festivals are scattered throughout the calendar year. Figuring out which season matches your interests could help maximize a trip to this vibrant Midwestern hub. We've put together a list of the best times to travel to Chicago.
Spring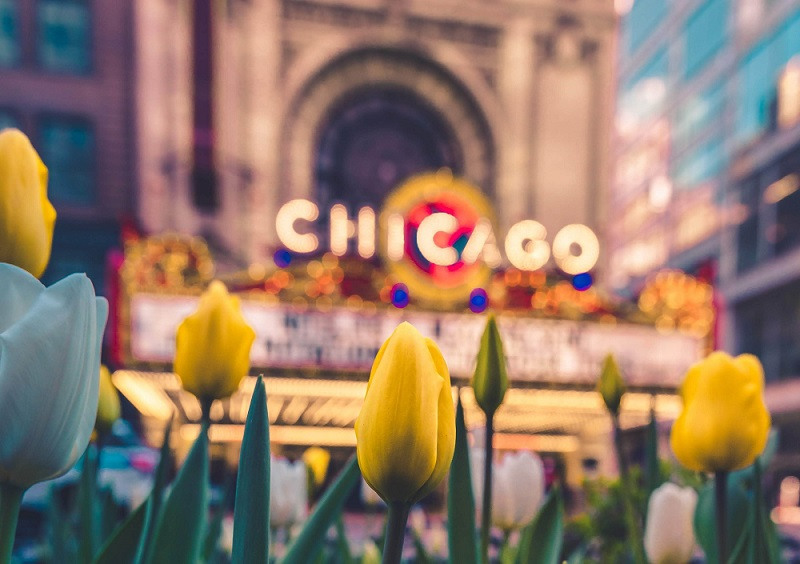 From March until May, the city enjoys a mild climate. Tourists can expect fewer crowds and affordable rates. At this time of year, the Chicago Architecture Foundation reopens its famous river cruises. Enjoy the best views of the skyline, relax in style, and absorb a history lesson. Knowledgeable volunteers provide over 100 years of backstory, summarizing the foundations of the area. March 17th draws thousands of visitors as Chicagoans party for St. Patrick's Day. Celebrating the rich Irish-American history of the area is a big deal. Watch the largest parade outside of Dublin and witness the tradition of dyeing the Chicago River green.
April is officially Chicago Dance Month. A mixture of free and heavily discounted events across the city, such as rehearsals and performances, show off the local scene. Styles exhibited include ballet, hip-hop, modern, and tap.The annual spring Chicago Comic and Entertainment Expo is a must if you're interested in comic books, anime, video games, or toys. Fans can mingle with creators, play with props, and attend dedicated panels. Similarly, the Chicago International Movies and Music Festival caters to cinephiles and music lovers each April. Live performances are combined with over 145 film screenings.
Summer
Cool down from the muggy heat by the shores of Lake Michigan. The rising temperatures and long days are perfect conditions for water sports. Beer gardens, patios, and rooftop bars overflow with patrons chilling out. This time of year is a little more crowded, but with good reason. There is A LOT to do. Summer means music festivals. Grant Park is home to the famous Lollapalooza event each summer. This iconic four-day festival draws over 400,000 people and showcases a wide range of eclectic acts. Pitchfork Music Festival focuses on a more alternative line-up. Festival goers flock to Union Park each July to sample a variety of local food, drinks, and art.
Chicago is an exceptional destination if you're a foodie. Each June, the neighborhood of Pilsen transforms into the Pilsen Food Truck Social. Popular food trucks gather for a day of food and entertainment. Another option is to attend the world's largest food festival. Each July, the free Taste of Chicago spreads out across five days. Over 80 local restaurants participate. It's an opportunity to try everything the region has to offer, from deep-dish pizza to Chicago-style hot dogs.
Museums, galleries, and public art can be found in every corner of the city. The 57th Street Art Fair is hosted during the first week of June. It is a large, not-for-profit juried art fair. Over two days, visitors can explore artwork from over 250 artists for free. Guaranteed good weather means that summer is an ideal time to explore more than 500 works of art that are displayed all over. In Millennium Park, visitors can find the famous 110-ton sculpture Cloud Gate. Also known as, The Bean.
Fall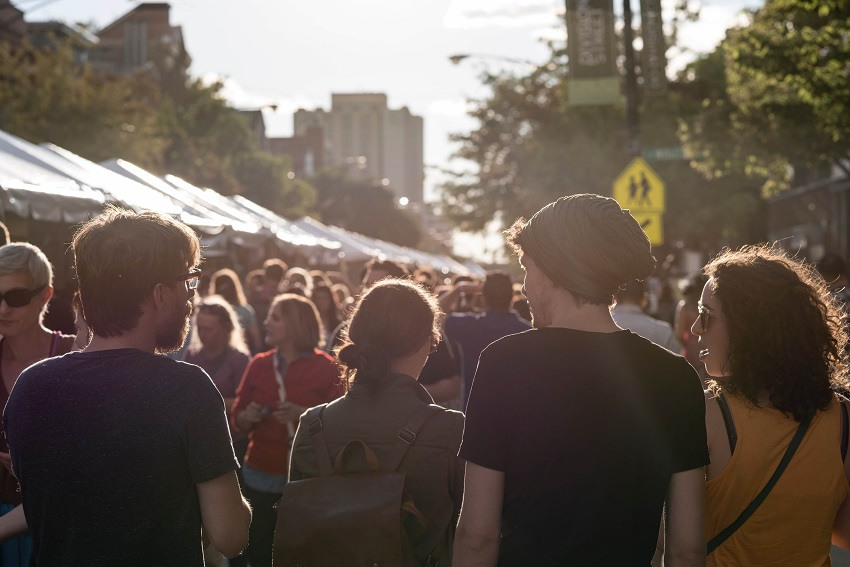 From September to November, visitors can enjoy clear weather. This is the best time of year to stroll through 600+ public parks located within the city limits. Seasonal changes in nature make for a pretty sight. A crisp breeze might be an excellent accompaniment to one of the many free walking tours available. Free Tours by Foot offer a variety of informative tours throughout the neighborhoods. However, it might be a little too chilly to discover the city outside. Good thing that every October, Open House Chicago allows tourists to discover famous architecture from within. This free, public festival offers entrance to over 250 buildings across the city. Private spaces such as offices, clubs, skyscrapers, and theaters, are open for exploration. Chicago's rich sporting tradition is alive and kicking at this time of year. September kicks off the National Football League season. The Chicago Bears play many games at Soldier Field during these months. The Chicago Cubs finish up their season in September, so it's not too late to catch a baseball game at Wrigley Field. Discounted tickets for a Chicago Bulls pre-season basketball game are usually available too.
Winter
December to February is a safe bet for a good deal. Hotel occupancy is low. Needless to say, it is freezing during the winter months. If you can handle the cold, you might find this an amazing time to enjoy cultural activities. Museums, restaurants, and theaters are less busy, less expensive, and therefore easier to access. German-inspired Christkindlmarket takes over Daley Plaza each winter. European vendors sell a vast variety of goods including beer, meats, toys, handcrafted gifts, and confectionery. Another option is to visit Millennium Park between November and March. Located here will be the McCormick Tribune Ice Rink. Free ice skating lessons are offered on the weekends to all. You can even go for a skate on Christmas Day.
Chicago Restaurant Week has been a January fixture for many years. For two weeks, over 350 restaurants offer special tasting menus at a hugely discounted rate. This is the perfect time to sample work from some of the top chefs in the city. Similarly, Chicago Theatre Week inexpensively highlights the best that the performing arts world has to offer. Each February, it is possible to take advantage of great discounts to enjoy many theatrical offerings. This includes world-renowned performances from The Second City improvisational comedy troupe.
Whether you're searching for a solo adventure or a family friendly vacation, Chicago has it covered. Figure out your budget, your interests, and don't discount the shoulder seasons. There are enough offerings to meet the needs of any kind of traveler. While the summer months enjoy the best weather and host the most events, the city is a dynamic choice year-round. No matter the season, Chicago is absolutely worth a visit.